1Herbs: Dedicated to Your Health
Support Your Health with Herbal Supplements
1Herbs.com offers alcohol-free liquid supplements. We are bringing you nature's treasures to support a healthy lifestyle in a holistic way.
Herbal Liquid Supplements Made in Colorado for the Whole World
Colorado-based 1Herbs.com provides over 200 top-quality liquid non-alcoholic products, directly from HoneyCombs Industries' manufacturing facility in Montrose, Colorado. HoneyCombs Industries has been manufacturing Herbal, Vitamin, Calcium, and Mineral Supplements since 1971.
HoneyCombs Industries' products are based on a liquid alcohol-free format, manufactured in the highest quality cold-press extract system. All of the liquid products are housed in a vegetable glycerin base which both provides health benefits in itself and is also a natural preservative, making the herbs last longer even without refrigeration.
With 1Herbs.com, you buy directly at manufacturer prices and save with wholesale prices every day! We guarantee HoneyCombs Industries' products at the lowest prices available on the internet, making herbal supplements affordable to all.
1Herbs.com ships worldwide. We offer FREE shipping on all domestic orders over $75.
Our lifestyles are demanding and stressful, and our nutrition is not always optimal.
Nutrient depletion is a common occurrence for a large percentage of the population, often leading to health-threatening conditions and a weakened immune system. Nutrient depletion is also a risk when following specific or strict diets (keto, gluten-free, and others) that restrict the consumption of specific groups of food and require supplementation to keep a healthy nutrient balance.
At 1Herbs.com, we wish to offer you the necessary herbal supplements that can increase your nutrient consumption, enhance your immune system, help you prevent and fight the results of nutrient depletion, and support your physical and mental health in a holistic manner.
We aim to be your one-stop online provider of top-quality liquid herbal supplements. We provide over 200 alcohol-free liquid herbal supplements, including herbal drops, liquid mineral formulas, and vitamins and multivitamins. The rich documentation on 1Herbs.com about the potential benefits of each product will help you choose the nutritional supplements that best suit your needs, diet, and lifestyle.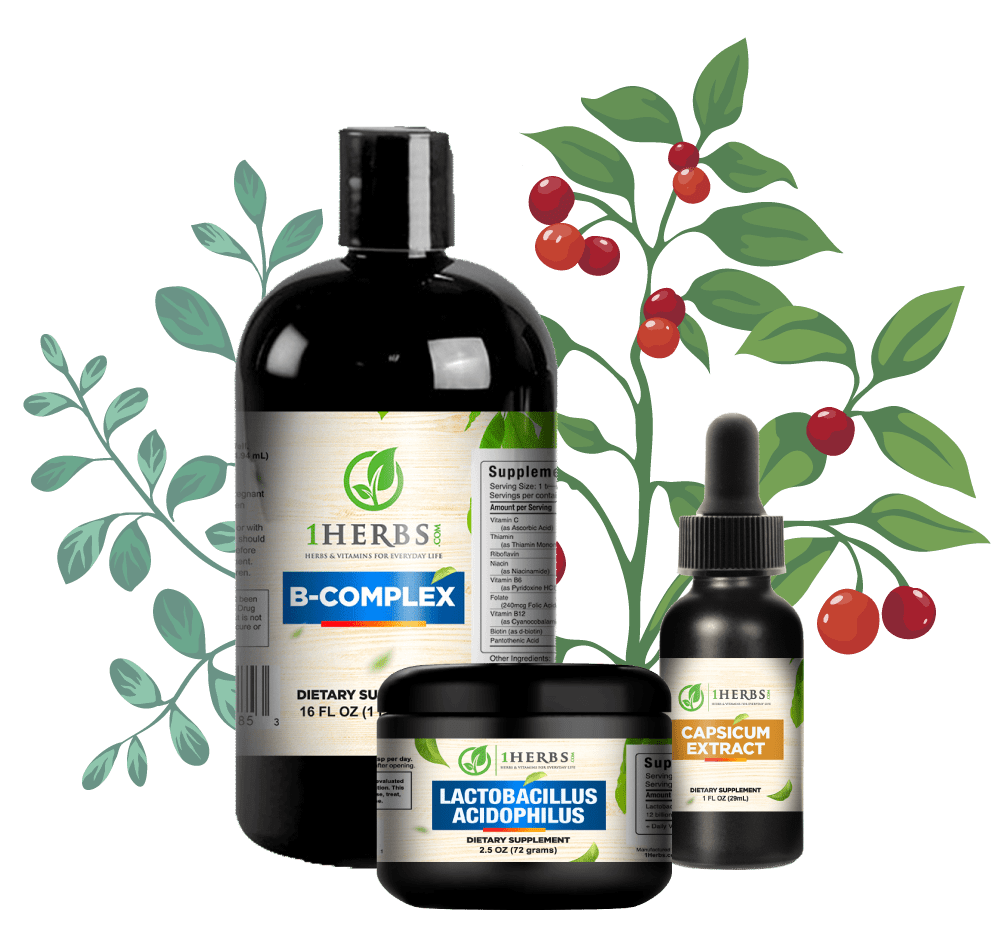 Pure and Alcohol-free for Maximum Health Benefits
We have provided our range of products to the Amish community since its inception in 1971. No other herbal manufacturer has been able to provide such high-quality botanical products that are acceptable to this community. This attests to the quality of the products we manufacture.
We take great pride in offering top-quality supplements that have been specially designed to provide maximum potency and health benefits.
Our herbal supplements are made from carefully sourced ingredients and contain zero fillers, artificial preservatives, colors, or flavors.
Cold-press extract ensures that all beneficial nutrients included in our formulas keep their rich bioactive profile and high potency intact. Most of our products are in liquid form, for easier use and maximum potency. Finally, our products are non-alcoholic, which makes them suitable for all, and a great solution for the most demanding lifestyles.